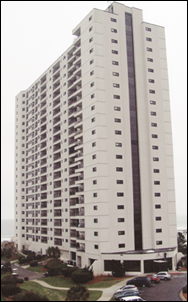 The Myrtle Beach Resort
5905 Hwy. 17 S.
A self contained 33 acre oceanfront paradise located four to five miles South of the Pavilion in South Myrtle Beach (next door to Lakewood Campground.)
Here are a few reasons why the Resort is so popular:
A gate guard and 24-hour security at the entrance and constant 24-hour protection of The Resort and the beach area.

Six (6) tennis courts - lighted.

Six (6) swimming pools - one indoor heated, one outdoor heated and another indoor/outdoor pool. The oceanfront pool is 154 feet long, the largest anywhere on the Grand Strand.

Four (4) whirlpools with steam rooms, sauna rooms and Universal weight and exercise machines.

Game rooms for the children with all the latest electronic games.

A 6,000 square foot oceanfront cabana with food and beverage service and a full service bar. In season, there is nightly entertainment (live band).

An enclosed indoor atrium - nothing like it on the Grand Strand! It is climate controlled at all times, featuring an indoor heated pool, whirlpool, bar and health club with exercise machines, men's and women's locker rooms and showers, card room, game room and glass elevators - all to be enjoyed in the year-round comfort of a protected environment, decorated with lush tropical vegetation. There are also rooftop gardens for relaxation and panoramic views.
Also part of The Myrtle Beach Resort is the Renaissance Tower - a breathtaking high-rise, one of the highest in Myrtle Beach - 21 stories. It makes a luxury statement as you drive up. Features include a circular drive for unloading, a reception area in the lobby with a library, convenience store downstairs for fast shopping and a modern laundry. There is also a "spa" with a large whirlpool, two saunas, showers, locker rooms, Universal exercise equipment, and an outdoor heated pool. All this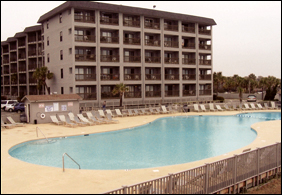 overlooks our 6,000 sq. ft. oceanfront cabana, with live music playing in the summer.
Huge Lazy River!
The Myrtle Beach Resort
2013 Rates
January 1 -
March 22
March 23 -
May 3
May 4 -
June 14
June 15 -
June 28
June 29 -
August 2
August 3 -
August 23
August 24 -
December 31

B

Tennis Center & Five Seasons
sleeps 4, 1 bedroom
2 blocks from ocean

1 queen in bedroom,
1 queen sofa, full kitchen

$59

$79
$89
$99
$119
$99
$59
C
Sun Suite
sleeps 4 Oceanfront & Ocean View
2 bunk beds, 1 platform bed, 1 sleeper sofa, full kitchen
$69
$89
$99
$109
$129
$109
$69
D
Tennis Center & Five Seasons
sleeps 6, 2 bedrooms
2 blocks from ocean
1 queen bed, 2 twin beds, sleeper sofa, 2 baths, full kitchen
$79
$99
$109
$129
$149
$129
$79
E
One-Bedroom
sleeps 4 to 6
Oceanfront
1 queen bed, 2 bunk beds, sleeper sofa, full kitchen, no dishwasher
$79
$99
$119
$129
$149
$129
$79
F
Two-Bedroom
sleeps 6
Ocean View -- A & B Buildings
1 queen bed, 2 twin beds sofa sleeper, 2 baths
full kitchen
$99
$119
$139
$149
$169
$149
$99
G
Renaissance Tower
2-Bedroom - sleeps 6 or 7
Full Ocean View
1 queen bed, 2 twin beds sleeper sofa, 2 baths
full kitchen
$102
$129
$149
$159
$179
$159
$102
7 - DAY SPECIAL - Stay seven nights, and your last two nights are absolutely Free!
5 - DAY SPECIAL - Stay five nights and your last night is Free!
Stay 7 nights but only pay for 5 nights. The last TWO nights are FREE on any week of the entire year.
There is a $50 reservation fee for all reservations.
There is a three-night minimum on holidays.
50% of rental will confirm all reservations.
Linens are available for rental - $15 for each bed ($30 minimum order)
Departure Maid Service mandatory - add to your rental - $50/Sun Suite, $55/1 bedroom, $60/2 bedroom, $65/3 bedroom.
Minimum age requirement - See rule #22 on general information page.
There is a Parking Charge for Motorcycles or Trailer at the Myrtle Beach Resort of $10.00 each - Trailer size is limited to 18 ft. or less. There is a $5.00 charge for all other vehicles coming thru the gate. Maximum 3 cars per condo.

For a limited time - take an additional 10% off for Early Booking!